Systemagic take on Center Parcs as we celebrate 20 years of business!
Last month the team set off for a weekend of adventure as we celebrated an excellent financial year along with 20 years of business! Nothing beats good old fashion team building, copious amounts of food and lots of sunshine at the lovely Center Parcs.
Arriving bright and early Saturday morning we head straight to the Westbury room where, armed with bacon rolls coffee, we got stuck into some behaviour profile training, took a look back at the last 3 years of growth and agreed on the targets and goals for the coming year. Once the serious stuff was out the way it was time for fun as we collected our bikes and made our way to our first thrill-seeking activity.
Take to the skies
We kicked off our adrenalin-filled day by facing our fears! Our first activity involved swinging from the treetops as we tackled an ariel adventure course. What goes up must come down and we're pleased to say everyone conquered the final zip line in one piece.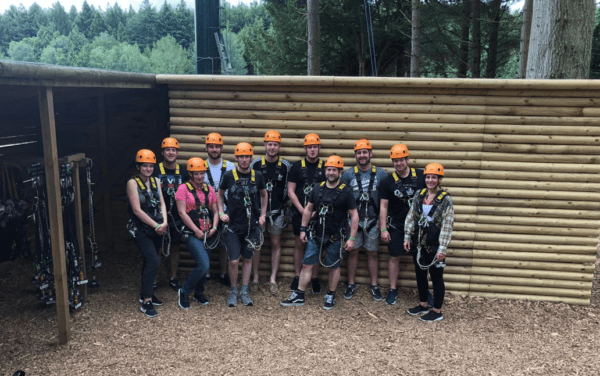 Game faces for paintballing
It wouldn't be 'team building' if we didn't don our camouflage overalls and shoot each other, right? Our second activity bought out our competitive sides as we battled in teams to be last ones standing on the paintballing field. Despite now sporting shiny new bruises (some more than others) we all left feeling pretty victorious as we raced back to enjoy drinks in the sun before our Indian feast later that evening!
Now back at Systemagic HQ with our feet firmly on the ground, we're super excited for another fantastic year of growth and development within the team. We've welcomed 3 new faces to the team and are already buzzing for next year's away weekend!  If you're interested in being a part of our award-winning team, we're always looking for talented and enthusiastic superstars to join us. Get in touch or contact jobs@systemagic.co.uk.
Back to our blog